Secondary Art School, Ostrava
The Secondary Art School, Ostrava was founded in 1990. It was founded in the Moravian-Silesian Region. Within the basic subject 82 "Arts and applied arts", the school offers the possibility of full-time study programs in one of these fi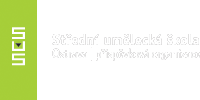 ve fields of education: Applied Photography and Media; Applied Painting; Graphic Design; Ceramics Creation; Shaping of industrial products – Industrial design.
Open-door day at the school – school building
Garden party and workshops:
Collage á la Kolář Making original pin-badges. Action BodyArt – body painting. Craft print on canvas bags. Design jewelry and boxes. Crazy photo portraits.
Bring your own mug, bowl, plate – porcelain or ceramics. You can decorate them under guidance of experiences potters.
Projections of animated works by students of the school. Exposition, music and much more…
After last year's success there will be an exhibition of works of student art and craft works for sale – graphics, paintings, photos and ceramics at attractive prices!
Contact:
Střední umělecká škola, Ostrava
Poděbradova 33
Matiční 18
702 00 Ostrava
studijni@sus-ostrava.cz
www.sus-ostrava.cz
Phone +420 596 114 985